Kimberly Massey
Meet Kimberly Massey
Kimberly Massey is an associate at Gathings Law.  She was born and raised in Atlanta, Georgia, but moved to Birmingham to attend the University of Alabama at Birmingham for a degree in French and a minor in Sociology.  Kim then enrolled in law school at Cumberland School of Law with a scholarship, where she graduated in May 2020.
While at Cumberland, Kim was selected to serve as a Judge Abraham Caruther's Teaching Fellow, an Academic Support Mentor, and as the Online Editor for the American Journal of Trial Advocacy—the nation's oldest law review dedicated to the art of trial advocacy.  Kim also received the Scholar of Merit award—or the highest grade in a class—for Law Office Practice and Management.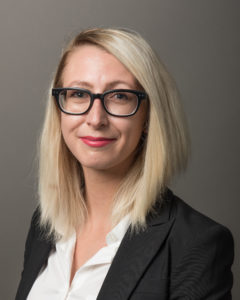 "Law should be for everyone, not just lawyers, the government, or the wealthy." Kimberly Massey
Before joining Gathings Law, Kim was a law clerk for a well-known plaintiffs' firm where she worked on cases ranging from personal injury, catastrophic injury, class actions, medical malpractice, and products liability. 
Kim's practice includes personal injury, catastrophic injury, products liability, business litigation, and family law.
When Kim is not working, she enjoys spending time with her husband, their dog, and two cats, as well as baking, playing video games, and cycling.
Education:
B.A., French, University of Alabama at Birmingham
Juris Doctor, Cumberland School of Law, Samford University
Admitted to Practice:
Alabama Supreme Court
United States District Court for the Northern District of Alabama
Professional Affiliations:
Member, Alabama State Bar Association
Member, Birmingham Bar Association
Member, Alabama Association for Justice
Member, American Bar Association
Member, Public Investors Advocate Bar Association (PIABA)

Publications:
See No Evil, Hear No Evil, Speak No Evil, Register No Evil Trademarks?: How Iancu v. Brunetti Changed Federal Trademark Law, Am. J. Trial Advoc. (Sept. 16, 2019), https://cumberlandtrialjournal.com/2019/09/16/see-no-evil-hear-no-evil-speak-no-evil-register-no-evil-trademarks-how-iancu-v-brunetti-changed-federal-trademark-law/.
With the Recent Growth of the Public Domain, Will America See Another Copyright Term Extension?, Am. J. Trial Advoc. (Feb. 12, 2019), https://cumberlandtrialjournal.com/2019/02/12/with-the-recent-growth-of-the-public-domain-will-america-see-another-copyright-term-extension/.
Recent Development, Intellectual Property—Three Stripes and 'You're Out' for Trademark Dilution?—adidas America, Inc. v. Skechers USA, Inc., 890 F.3d 747 (9th Cir. 2018), 42 Am. J. Trial Advoc. 255 (2018). 
Gathings Law is here to fight for you.