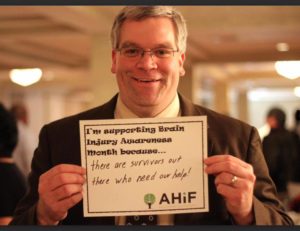 The Alabama Head Injury Foundation is a statewide nonprofit is doing special things in our community, serving nearly 3,000 traumatic brain injury survivors with ongoing support services beginning at the point of their injury and often continuing for life. March is National Brain Injury Awareness Month, and AHIF is changing lives for the better.
They recently helped Patrick, a 42 year-old man injured in a car crash six years ago. They began providing services to Patrick at the time of his injury, and helped as his father retired from his job to become Patrick's full time caregiver. They found therapists who trained Patrick's father on how to provide services to Patrick himself, since their insurance would not cover such services. The AHIF also got both Patrick and his father plugged in to their local recreational support group, where they both found a 'family' of others dealing with some of the same daily struggles they did each and every day. Six years after his injury, Patrick reached the goal he had set with the AHIF the first few weeks of his injury: to walk independently.
When Patrick reached this goal after years of work, the first people he wanted to show was his "family" at the support group meeting. He entered to a standing ovation from his new family of supporters, with not a dry eye in the building.
You can help Patrick, and the thousands others like him, by making a gift in support of Alabama Head Injury Foundation. As a 501(c)3 nonprofit, all gifts are fully tax deductible to the extent the law allows. Each year, more than 1,300 Alabamians sustain severe traumatic brain injuries, added to the 3,000 AHIF already serves. To learn more about how to give, click here.
Please don't forget to join Gathings Law and the Alabama Head Injury Foundation this Saturday, March 24th, at Avondale Brewing Co. for AHIF's 4th Annual Beer, Band, & BBQ Fundraiser!  Tickets are $15 each and include live music from The WD Band, food from Saw's BBQ. To learn more or purchase tickets, click here.